Reward: $5K for Best App!
Reward: $5K for Best App!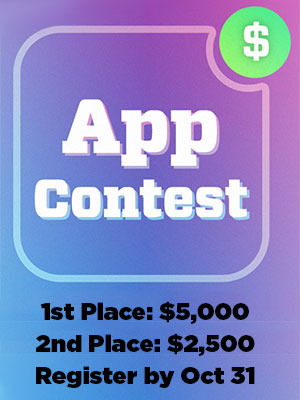 The Office of the Chief Information Officer is sponsoring its sixth-annual Mobile App Contest open to all UNM and CNM students. First place winner gets $5,000, second place reaps $2,500 and third place garners $1,000.
An "app" is a mobile application that loads or installs and runs on a mobile device. This contest gives students an opportunity to develop and apply their coding skills in order to make useful mobile applications for the community.
In order to participate in this contest a team (consisting of one student or several) must register by October 31 at midnight on the App Contest webpage located at appcontest.unm.edu.
Entrants do not have to turn in the completed app until January 6th, 2019 at midnight.
UNM and CNM faculty and staff will provide support to these coding efforts through workshops and mentors. Open data sets are being provided by UNM and The City of Albuquerque to enrich the coding experience and make the apps more useful to users.
Data sets available include UNM events, class schedule data, campus locations, Route 66 images, bike paths, lists of local businesses, and more.
Through these efforts, UNM and CNM hope to inspire students to develop coding skills. These skills are increasingly valuable in our information economy, and to yield apps that can improve the experience of our students.
Questions? Any information requests can be made to appcontest@unm.edu.