ECE Hackers Tie for 1st in Capture the Flag
March 15, 2017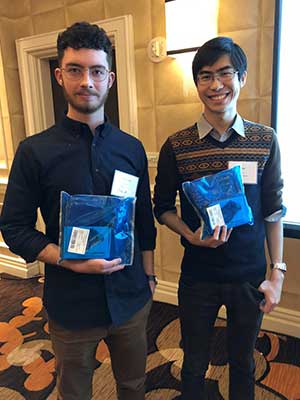 ECE senior Jonathan Daniels and sophomore Jih-Hwa Mike Chu tied for first in the CTF competition hosted during the Rising Star Conference.  
CTF stands for "Capture the Flag" and it was part of an "Icebreaker" that took place from 2-6 pm on Saturday, Jan 6 at the Excalibur in Las Vegas, Nevada.
CTF is a special kind of information security competition and although it shares the same name as that war game we all played when we were kids, it's really not the same thing.
According to alienvault.com, CTF's "are events that are usually hosted at information security conferences…These events consist of a series of challenges that vary in their degree of difficulty, and that require participants to exercise different skillsets to solve…CTF events are usually timed, and the points are totaled once the time has expired. The winning player/team will be the one that solved the most challenges and thus secured the highest score."
The website went on to explain that CTFs usually showcase different challenges. Four of the popular areas of focus are 1) Programming 2) Crypto 3) Exploitation and 4) Reverse Engineering.
CTF tasks are often based on real-world incidents or vulnerabilities that give the participants a chance to experience how "hacking" is actually done and helps them prepare their defenses against attacks.
Most of us will probably never truly understand the fine intricacies of a CTF competition but one thing is clear: Two students within our department have tied for first place in a competition that pitted them against some of the best "hackers" in the nation.
"Jonathan Daniels and Mike Chu worked hard preparing for the competition," said their colleague Rebecca Kreitinger, "and I just wanted to share this great news!"
Thank you, Rebecca! This is terrific news and we are also very, very proud of our in-house hackers: Let's all be sure to congratulate Jonathan and Mike the next time they cross their paths!