Plusquellic Receives Two Awards from IEEE
May 5, 2017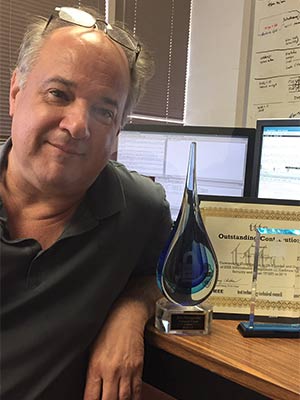 ECE Professor Jim Plusquellic received two awards from the IEEE Computer Society on May 1, 2017.
Both awards are 'Outstanding Contribution' awards for co-founding and serving as General Chair for the IEEE International Symposium on Hardware-Oriented Security and Trust (HOST), a professional meeting that has grown to over 300 attendees.
Plusquellic is currently serving as the Hardware Demonstration Chair for HOST, a competition that has grown to have 25 participating groups from Universities around the world.
Plusquellic's group tied for a 2nd place award at this years competition. He also was selected among 10 groups to present a tutorial at HOST called "Hardware-Based Security and Trust Challenges in Emerging IoT Systems and Applications." Students from his group also presented a paper (acceptance rate 25%) and a poster this year.
Please click this link to view the "Hardware-Based Security and Trust Challenges in Emerging IoT Systems and Applications" lecture that was delivered at Georgia Tech on April 21, 2017. (Note: the first minute or so of the audio is garbled but soon becomes much clearer after Jim begins to speak.)