Nafchi Wins IEEE ABQ Grad Award
May 20, 2018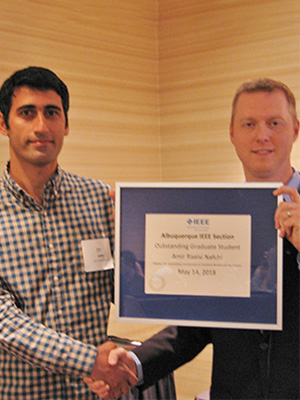 ECE student Amir Raeisi Nafchi has won the 2018 IEEE Albuquerque Section Outstanding Graduate Engineering Student Award.
Amir was honored at the IEEE Sigma Xi annual awards banquet held recently at the Sheraton Hotel on May 14, 2018.
The award was given for achieving excellence in scholarly research work on the design of multicarrier modulation as well as for excellent leadership, communication, and services to IEEE, especially in the field of Signal Processing.
Amir works with Electrical and Computer Engineering Professor, Ramiro Jordan, on designing fractional multicarrier modulation and their applications in communication syste