Learn Cybersecurity Online or Hybrid!
November 17, 2018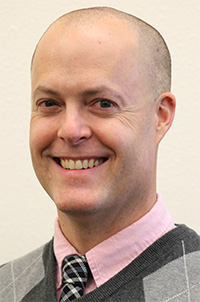 ECE Research Asst. Professor Chris Lamb will teach two classes in cybersecurity this spring: One will take place online and the other in room 125 of the ECE building.
Dr Lamb's online class is called "Introduction to Technical Cybersecurity" (ECE595) and is accessible to anyone, anywhere on the planet, who has a computer and an internet connection!  
"We will cover host based attacks (stack exploitation, disassembly and analysis) and defenses, host and network based attacks, and web application vulnerabilities and scanning," said Lamb.
Please click this sentence to read the entire ECE529 online syllabus! 
Lamb calls his other class, "Cybersecurity and National Security ECE595" a hyrid course. Although the class will take place in room 525 at ECE, it will also interact with Dr Edl Schamiloglu's online Directed Energy class in a 2-day synchronous streaming internet workshop.
Please click this sentence to read the entire ECE595 syllabus!
Dr. Lamb currently serves as a cyber-security research scientist with Sandia National Laboratories. He has extensive experience designing and developing mission-critical distributed systems for a wide range of government departments and agencies.
Prior to joining Sandia National Laboratories and working with the University of New Mexico, Dr. Lamb served in executive roles and as a principal consultant for a variety of technology companies in the southwest.
Dr. Lamb has a B.S. in Mechanical Engineering from New Mexico State University, an M.S. in Computer Science from the University of New Mexico, as well as a Ph.D. in Computer Engineering with a focus on Computer Intelligence from the University of New Mexico.
He is a TOGAF 9 Certified Enterprise Architect and a Certified Information Systems Security Professional (CISSP) through the International Information Systems Security Certification Consortium.
Do you have questions about the class or do you need help registering? Please contact Dr Lamb at cclamb@unm.edu