Chavez Wins Best Poster at CINT
September 30, 2019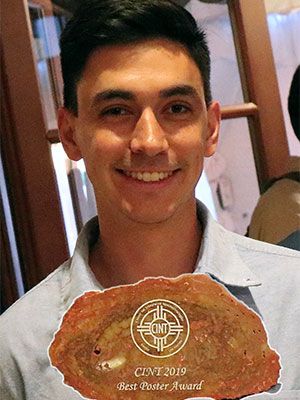 Andre Chavez, a doctoral candidate at ECE, won the best poster award at the Center for Integrated Nanotechnologies (CINT) Annual Meeting held this fall in Santa Fe.
Chavez is working closely with local company Osazda Energy to make the lifetime of solar panel modules longer and the cost of solar electricity lower.  
Osazda Energy, a local company focused on engineering solutions to improve solar cell and solar module reliability with specialized metal matrix composites that have been proven to electrically bridge stress-induced cracks that appear in solar cells over time, contributed a poster presentation highlighting the advancement of its technology.  
Chavez plays a crucial role within the Osazda Energy team as the company continues to develop their technology and gain not only local recognition, but also national and international interest within the photovoltaic industry.
"Being a part of the Osazda Energy team has been an incredible experience," Chavez said. "I am proud to be part of a company that is working toward changing the way we use and rely on solar power. The ability to cultivate a promising technology that was discovered at The University of New Mexico and take it to market is an experience of a lifetime."
Chavez was thrilled to win best poster award at CINT 2019 and he invites you to inspect his work: Please click these words to view a high resolution version of his winning submission.