Biedron Inducted into Hall of Fame
January 15, 2020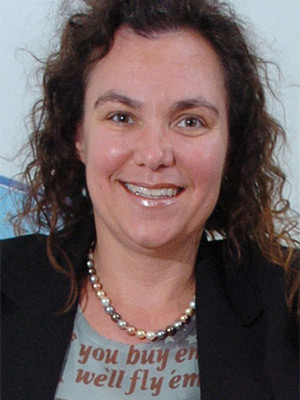 Dr. Sandra Gail Biedron, a research professor at ECE, was inducted into the Moraine Valley Community College 2020 Alumni Hall of Fame recently. Moraine Valley Community College is the second largest community college in Illinois.
A community college, also known as "continuing education" grants certificates, diplomas and associate degrees. Most students who graduate from a community college will usually transfer to a four-year liberal arts college or university in order to complete a bachelor's degree.
Upon completing classes at Moraine Valley in 1992, Dr. Biedron earned a Bachelor of Arts degree in chemistry and biology from Trinity Christian College in Palos Heights, and a doctorate in accelerator physics from Lund University in Sweden.
Dr. Biedron has made significant contributions to several areas of science and engineering in accelerator science and technology, theory, simulation and experiment of several genres of particle accelerators.
She holds a patent in the field and has several patents pending, has participated in research and development, and the build-up and operation of facilities around the globe, including at Argonne National Laboratory in Illinois, for the U.S. Navy, and in Australia and in Italy.
While at Argonne National Laboratory, Dr. Biedron was an associate director of the Argonne Accelerator Institute as a senior physicist and director of the Department of Defense Project. She is a senior member of the Institute of Electrical and Electronics Engineers, has held leadership roles at Sincrotrone Trieste in Italy, and is a member of the administrative committee for the Nuclear Plasma and Sciences Society.
Dr. Biedron was an invited delegate and speaker for the U.S. State Department's dialogue on U.S.-European extreme light infrastructure; received a Particle Accelerator and Science and Technology Award from the Nuclear and Plasma Sciences Society; was appointed as Government Relations chair for the Department of Energy's Fermi National Accelerator Laboratory; and received the George T. Abell Outstanding Mid-Career Faculty Award in the College of Engineering at Colorado State University. She was a District 230 Foundation Legacy Hall Inductee for her contributions to science and technology, and she continues to mentor students.
Dr. Biedron is also a managing member of Element Aero in Chicago, a technological consulting company specializing in particle beam technology, security and defense applications, and environmental issues.
"Sandra's contributions to the world of science are a significant factor in her international reputation as an extraordinary physicist," said Patti Friend, director of Alumni and Annual Programs for the Moraine Valley Foundation. "Her work continues to be a driving force in research and will be for years to come. We are proud Sandra chose to begin her education at Moraine Valley and honored to include her in the 2020 Alumni Hall of Fame."
ECE congratulates Dr Biedron on this milestone in her life and is pleased to share a video about her that was created by her esteemed colleagues.