Bidram Wins 2020 IEEE Educator Award
June 15, 2020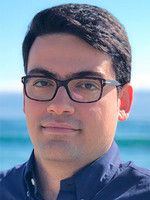 ECE Asst Prof Ali Bidram has been selected to be the Albuquerque Section IEEE 2020 winner of the Outstanding Engineering Educator Award.
The award is given to Bidram "for outstanding contributions in education, engineering, and research in Smart Grid power engineering."
The award recognizes a member of the IEEE who has shared technical and professional abilities through teaching in industry, government, or in an institution of higher learning and in so doing has made an outstanding contribution to our profession.
"You have the unique honor of being the first person, in my memory, to be nominated separately by two different people," said Jason Neely, Chair of the Albuquerque Section IEEE, in a congratulatory letter to Bidram.
The COVID-19 situation has canceled the usual Awards ceremony but Bidram is scheduled to be formally recognized at next year's affair, scheduled for May 17, 2021.
Ali Bidram's research has lately been focused on adaptive protection in power systems, fast-tripping protection schemes, and developing cybersecurity schemes that can detect False Data Injection (FDI) attacks on distributed microgrid control systems.