Jayaweera Chairs AI for Cognitive Radios Symposium at the IEEE ComSoc's Flagship Conference
Jayaweera Chairs AI for Cognitive Radios Symposium at the IEEE ComSoc's Flagship Conference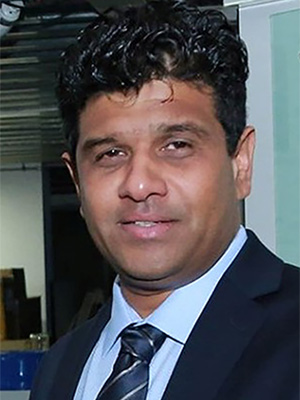 ECE Prof Sudharman K. Jayaweera will co-chair The Cognitive Radio and AI-Enabled Networks (CRAIN) Symposium, at the IEEE  International Conference on Communications (ICC) to be held in Rome, Italy 28 May – 01 June 2023.
The ICC is the flagship conference of the IEEE Communications Society (IEEE ComSoc) and attracts close to 2,000 attendees from over 70 countries every year. Professor Jayaweera was nominated for the role of the CRAIN Symposium Chair by the IEEE Radio Communications Technical Committee (RCC). 
The CRAIN Symposium of the IEEE ICC recognizes that emerging cognitive radio and artificial intelligence (AI)-enabled networking technologies potentially provide a promising solution to efficient spectrum utilization and resource allocation in wireless access, improving the interoperability and coexistence among different wireless/mobile communications systems and making the future generation radio devices/systems autonomous and self-reconfigurable.  
The ultimate goal of AI-enabled radio and networks is to make the communication network self-adaptive, self-managed, and truly cognitive. The aim of the CRAIN symposium is to bring together and disseminate state-of-the-art research contributions that address various aspects of analysis, design, optimization, implementation and standardization, and applications of AI-enabled radio and networking technologies. 
The scope of the symposium and the Call for Papers (CFP) can be found here. The paper submission deadline is 11 October 2022. 
Professor Jayaweera is an expert in Cognitive Radios (CR), Machine Learning and Artificial Intelligence (ML/AI) who has worked extensively in autonomous wireless communications through advanced ML/AI techniques.
He was an early proponent of game theoretic approaches to dynamic spectrum sharing and spectrum coexistence through dynamic spectrum leasing (DSL) and a leader in ML/AI based cognitive jamming and anti-jamming communications. In particular, he technically and programmatically managed and led one of the first demonstrations of cognitive anti-jamming communications (CAJ) for space and satellite environments in 2018.
Dr. Jayaweera's team was able to successfully demonstrate a reinforcement learning based CAJ link between NASA's Space Communications and Networking (SCAN) testbed on the International Space Station (ISS) and the ground receiver located at the NASA's Glenn Research Center (GRC) in Cleveland OH.