PhD Candidate Jose Marcio Luna Wins Amazon $21,000 Award Credit
February 12, 2014 - Charles Reuben
In January 2014 ECE graduate student Jose Marcio Luna won a credit of $21,000 to carry out his experiments in the Amazon Web Services cloud.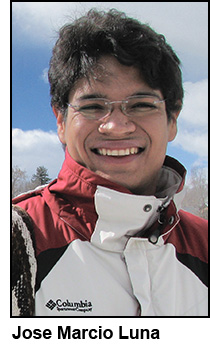 "This award is very important for me because it indicates that I am on the right track and gives me the motivation to keep working," said Jose Marcio Luna during a recent interview.
Jose is originally from Colombia where he earned a Bachelor of Science Degree in Electronics Engineering at the District University of Bogota. He then earned a Master of Science Degree in Electrical Engineering here, at ECE.
"I was born in the Colombian Caribbean coast which is well known for its beautiful mixture of Indigenous African and Spanish culture. These influences have shaped my ideas, perceptions and opinions of the surrounding reality," said Jose who arrived at ECE from Columbia in the fall of 2007.
Elmyra Grelle, ECE graduate program coordinator at UNM, has worked with Jose since he arrived here after winning the Colfuturo Scholarship to pursue graduate studies. "Jose is very kind, courteous and helpful to other international students and has been diligent in earning his degrees," said Grelle.
"I'm currently working on my PhD in Electrical Engineering with a PhD minor in Applied Mathematics under the supervision of Dr. Chaouki Abdallah. In my spare time I practice camping, hiking and rock climbing in the New Mexican mountains," said Jose.
"My current research looks at the development of theoretical techniques to optimize the performance of computing systems by using Control Systems theory, Discrete Event Systems(DES) theory, optimization theory and Randomized Algorithms."