ECE Professor Daniel Feezell Publishes GaN VCSEL Review in Compound Semiconductor
ECE Professor Daniel Feezell Publishes GaN VCSEL Review in Compound Semiconductor
March 25, 2014 - Charles Reuben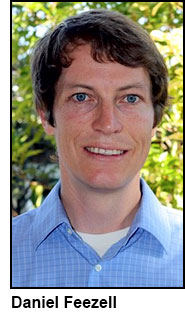 Daniel Feezell's six-page, full-color article entitled "The Evolving GaN VCSEL" was published in this month's Compound Semiconductor (Vol 20, No. 1), a trade magazine based in the UK with an international print circulation of 60,000.
Dr. Feezell's article can also be found at the Compound Semiconductor's website which can be accessed by clicking this link
(A compound semiconductor is made from two or more elements — in contrast to a normal semiconductor which is made from silicon.)
This review provides an overview of progress and challenges for GaN-based vertical-cavity surface-emitting lasers (VCSELs), which typically emit light in the violet to green region of the optical spectrum. These devices are finding applications in high-density optical data storage, chemical and biological sensing, and high-resolution printing.
Dr. Feezell's article is important because of the far-reaching exposure that his words will receive: A paper that is written at a conference only reaches a select audience. This article, however, has the potential of capturing the attention of engineers and their management on a global scale.
The Magazine Compound Semiconductor touts itself as being the "leading provider of news, analysis, opinion, information and services for the worldwide Compound Semiconductor industry since 1995."