Feb. 21 Solar Open House is a Dazzling Success
March 25, 2014

Over 100 people attended the ECE Solar Open House at Mesa Del Sol on Fri., Feb. 21 from noon until 3 p.m.
Upon their arrival, visitors snacked on treats and walked through the $285,000 structure.
Later, UNM President Robert Frank and Provost Chaouki Abdallah acted as keynote speakers during a ceremony held in an adjoining tent. They introduced a host of politicians and corporate dignitaries to the overflow crowd.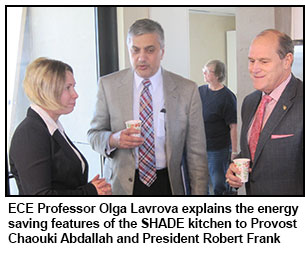 Known as the SHADE house (short for "Solar Homes Adapting for Desert Equilibrium") participants in the Open House were able to study, first-hand, a luxurious structure that can produce more energy than it consumes.
Originally constructed as part of the Solar Decathalon (a collegiate competition sponsored by the US Dept. of Energy), ECE partnered with Arizona State University to form a team that designed and built the structure.
"This was the first time UNM participated in the Solar Decathlon and we are proud of the result," said UNM President Robert Frank during his welcome and opening remarks. "(We were) working and competing shoulder-to-shoulder with other excellent Universities." Frank then welcomed distinguished visitors from the Congressional Offices of Ben Ray Lujan and Senator Martin Heinrich.
"Students had to live in this house for 10 days, cook food, wash dishes, wash and dry clothes," marveled Chaouki Abdallah, UNM Provost. "They also had to have heat or air-conditioning – all while being monitored for how much energy and water was being used." Abdallah proceded to introduce officials from PNM, Sandia National Labs, Sacred Power and the developer of Mesa del Sol.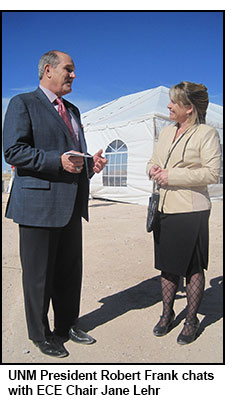 Finally, ECE Prof. Olga Lavrova thanked her students for their hard work and invited everybody present to view and learn more about the SHADE house in small groups that were guided by her pupils.
Click here to see the Program for the Open House!
You can take an animated tour of the SHADE house by watching the following video that was created by the Anderson School of Management, IFDM and SA+P: