ECE Professor Greg Heileman Teaches UNM's First MOOC Class: Web Application Architecture
ECE Professor Greg Heileman Teaches UNM's First MOOC Class: Web Application Architecture
April 23, 2014 - Charles Reuben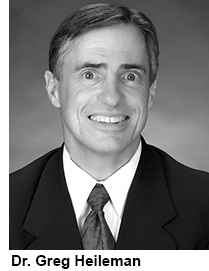 Imagine teaching a class in web application architecture to over 33,000 students! That's exactly what ECE Professor Greg Heileman began doing on March 24.
Dr. Heileman is teaching a MOOC — which stands for "Massive Online Open Course" — and it's the first of its kind to be offered at UNM.
UNM has partnered with coursera.org and 108 institutions worldwide to provide Dr. Heileman's class to anybody who wishes to take it, free of charge. "We envision a future where everyone has access to a world-class education," says the coursera.org website.
Students will learn on their own schedule, watch short video lectures, take interactive quizzes, complete peer graded assessments and connect with their teachers and classmates.
"This course is not about how to build a pretty web page, it's about how to build and deploy the full stack of protocols and technologies associated with a complete web app," said Dr. Heileman.
Dr. Heilman explains the goals of his MOOC in the following video:
Anybody with a computer can register for the class, at no cost.
Dr. Heilman's groundbreaking efforts to create UNM's first MOOC has garnered lots of well-written local media attention. The Albuquerque Journal's story can be accessed by clicking this link and UNM's coverage of the story can be found here..
You can also watch a TV news story that recently aired on KOAT.