"Ground State" Business Plan Wins $20,000
May 29, 2014 - Charles Reuben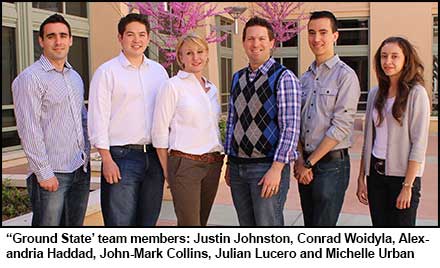 Five ECE students won second place in the UNM Business Plan Competition that recently took place at the Anderson School of Management.
The ECE students were Justin Johnston (BS EE), Conrad Woidyla (BS Comp E), Alexandria Haddad (MBA & BS Comp E), John-Mark Collins (BS Comp E), and Julian Lucero (BS Comp E). Michelle Urban (MBA from Anderson) was also part of the team.
The ECE team, which calls itself "Ground State," competed against 12 other teams in a University-wide competition. They presented their business plans to 40+ venture capitalists and angel investors who picked the winners.
"Creating the business plan for an engineering product idea was a great learning experience," said team member Alexandria Haddad. "It reinforced everything that we have been studying over the last four years in ECE, and put a clear perspective on the business aspect that is involved in bringing a great product to market."
Ground State is a "big data company" which, according to Creighton Glenn of ECE's Innovation Plaza is "a company that collects information from multiple users and derives useful suggestions for better living."
Ground State's prize-winning consumer product is Drive Pilot™ — a device that attaches to any vehicle made after 1996 and captures driving metrics such as speed, RPM, GPS location, and throttle position which users can access in real time. This information is used to encourage safe driving behaviors for new drivers, assist small business with fleet management, and more.

Ground State won a $20,000 cash prize, $3,500 that will be used for lawyers'services and a year of virtual office space that will all be used to accelerate the growth of their business. The team was awarded their prize at a reception and banquet at the Embassy Suites Hotel in Albuquerque.
Justin Johnston, the Chief Technology Officer of Ground State said, "We would like to thank Dr. Ramiro Jordan and Dr. Kamil Agi for the mentorship during the initial phases of exploring the business idea.
"It is exciting to have world class professors that are genuinely interested in the success of their students here in the Electrical and Computer Engineering department at UNM," said Johnston.
Ground State also won first place in the Pitch Fiesta 2.0 sponsored by Startup New Mexico, a statewide effort led by entrepreneurs to support the growth of startups throughout New Mexico.