Poster Session in ECE Lobby Prepares Students
May 29, 2014 - Charles Reuben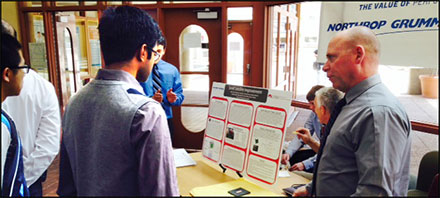 Poster sessions can usually be found at most scientific conferences but now, thanks to a couple of energetic ECE professors, they are becoming a regular feature in our department.
Ten teams of four students squeezed into the lobby of ECE on May 1 to show off their posters to the rest of the community. This poster session marked the culmination of 32 weeks of instruction in the Senior Design class taught by Edward Nava, professor at ECE.
They were joined by the 10 member team of the newly instituted, multi-disciplinary Senior Design class taught by Dr. Rich Compeau.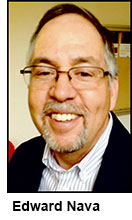 "Students will be making posters for the rest of their careers and displaying them at conferences and meetings," said Nava. "As professional engineers, they will need to clearly summarize their work to people who are unfamiliar with it."
The Senior Design course teaches students how to make posters and communicate their projects within a 24"x36" space. Students also learn to work in teams whose members have a variety of different technical backgrounds.
"The Senior Design course teaches students how to apply their technical skills to real-world problems," said Nava. "They learn how to plan and manage projects that are more extensive than the typical course assignments that they have experienced thus far.
"The key to success of this program is having sponsors who are willing to pose technical problems to the teams and provide technical guidance. We are fortunate to have support from local firms, but there is always a need for additional sponsors."
Nava encourages organizations to contact him if they would like to sponsor a project for future senior design classes. He can be reached by e-mail.