Robot Fiesta: Daryl Lee Makes It Look Easy
July 31, 2014 - Charles Reuben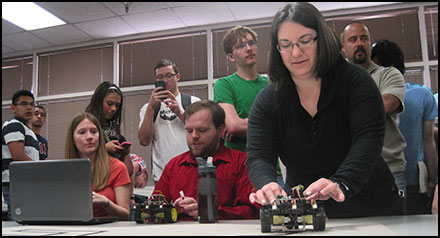 Over 60 students crammed into the ECE118 conference room on Thurs., May 14, 2014 for Robot Fiesta. Their mission: To show how their little androids can successfully and independently, follow one of three paths that were taped out on a conference table. The awards were bragging rights and a grade.
The professor was Daryl Lee, a lecturer at ECE, and the class was "Fundamentals of Programming, "ECE 131. This joyous, and somewhat chaotic event, took place on the final exam day.
"We use robots for the primary purpose of showing the students how quickly they can get into programming electromechanical devices, and not be stuck with just printing text to a computer screen," said Lee.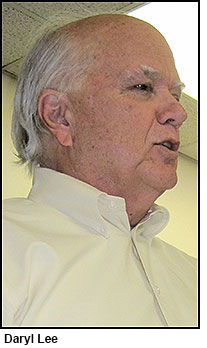 His expectations were high but Lee understands, better than most, how difficult this task really is. When asked what these robots were supposed to do, he joked, "They're supposed to not fall off the table."
During his free time, Lee sings in the New Mexico Symphonic Choir and he likes to compare the software engineer's task to that of a concert pianist.
"(Our job) is to make fairly complex work appear easy . . . The computer cannot read our minds; we must be very specific about every little thing, " said Lee.
That task is daunting and the work of a software engineer can be frustrating but Lee said the rewards are huge.
"When the switch is flipped on, and that little monster begins following the path, the feeling of success is unbeatable," said Lee.
After over 40 years of teaching, Lee still enjoys watching his students' robots.
"I've worked on devices of much higher levels of sophistication. Even though I still get a rush when some new software works right, every semester I'm reminded of what it feels like to slay that first dragon. The looks on the students' faces are its own reward," said Lee.
As the robot fiesta drew to an end, a frustrated student complained that her robot was moving much too slowly down its path. Lee responded by saying that despite that fact, the robot was on course and moving "nice and smooth."
"Well," conceded the student, "I guess it works . . ."
"There's a lot to be said for that," said Lee.