UNM and UC3M Sign Double Degree Program
July 22, 2014 - Chuck Reuben

The UNM Provost Chaouki Abdallah and the President of Universidad Carlos III de Madrid (UC3M), Daniel Peña, have signed a double degree program agreement within both universities together with the UNM Electrical and Computer Engineering Department and the UC3M School of Engineering.   
The agreement allows UNM students pursuing an M.S. in Electrical and Computer Engineering to also obtain an M.S. in Telecommunications or Multimedia and Communications at UC3M in Spain. Students of UC3M pursuing one of these degrees in Spain, can also obtain an M.S. in Electrical and Computer Engineering from UNM.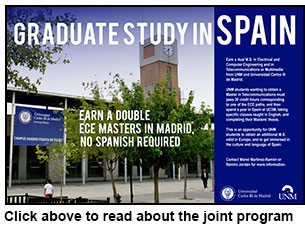 UNM students wanting to obtain a Master in Telecommunications must pass 30 credit hours corresponding to one of the ECE paths, and then spend a year at UC3M, where they need to take four specific courses, taught in English, an d complete their Masters' thesis.
Manel Martínez-Ramón, Prince of Asturias Endowed Chair at UNM and Ramiro Jordán, Associate Professor, have been working to establish relationships between UNM and UC3M. Martínez-Ramón says that though classes will differ from the courses that would be taken at UNM, they will enrich students' education.
"This is actually good because they will acquire knowledge in courses that have been developed with different objectives, to educate professionals with profiles that are quite different from the ones of the university of origin," said Martínez-Ramón, "This will broaden the capacities of the students, and their scope."
In addition to educational enrichment, this program will help students to develop new perspectives.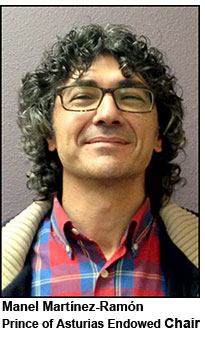 "I wish I had a penny for each time I heard, 'In this country people live better than in any other,' in Spain, the USA, France, Germany, and in other countries," said Martínez-Ramón, "Living abroad makes you get rid of the concepts 'better' and 'worse' to adopt concepts like 'different.'"
Martínez-Ramón also says that this exchange program will benefit students on the UNM campus.
"Studying abroad is not only a benefit for those who travel, but also for those who host the students," said Martinez-Ramon, "Talking, living and sharing things with foreigners of any country is always an enriching experience that benefits the society."
This is an opportunity for UNM students to obtain an additional M.S. valid in Europe, and to get immersed in the culture and language of Spain.
Students who are interested in joining the program should contact either Manel Martínez-Ramón or Ramiro Jordán.