Mancuso Says FE Exam Opens Doors for Grads
August 5, 2014 - Chuck Reuben

When Tony Mancuso sets his mind on doing something, it's pretty much as good as done.
The big difference between Mancuso and most students is that he entered ECE at age 46, making him a "non-traditional student." He is now part of a team in Alaska that is responsible for the design, maintenance and upgrades of the state's communications system.
"I worked hard [at ECE] and had the benefit of experience and wisdom — things my classmates worked without," said Mancuso. "It was great to compete and collaborate with my ECE friends. I was inspired by their questioning of everything and their persistence in finding answers."

Though Mancuso enjoyed his previous career, his desire to learn motivated him to go back to school.
"I liked the work but there were many things I wanted to understand that could only be learned through study," said Mancuso.
In his three years at ECE Mancuso earned his Bachelor of Science degree in Electrical Engineering (BSEE) as a full-time student while working as an intern at Sandia National Laboratories.
He graduated in May 2014 and started working for the State of Alaska in July 2014.
Tony recommends that graduates take the Fundamentals of Engineering Exam  (FE). It is a $225 test, which is the first step in the process leading to the Professional Engineer (PE) license.
Just like becoming a CPA defines an accountant and "passing the bar" allows a student to practice law, a PE gives a person the authority to sign and seal engineering plans and provide services to the public.
"I learned that the FE Exam certifies an engineering graduate to serve as an engineer in training and is the first step in obtaining a PE license," said Mancuso.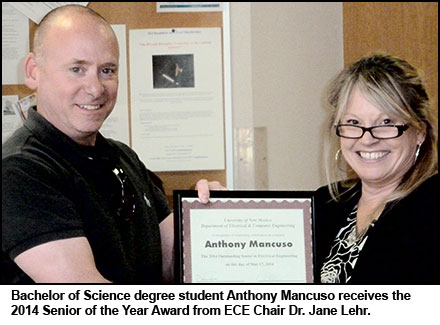 Mancuso is well on his way to becoming a professional engineer now that he has earned his BSEE and has passed the FE and he's working as hard as ever. He's even considering an EE-masters program in atmospheric effects on electromagnetic wave propagation.
"I thought things would slow down after school but after a slow and peaceful drive to Alaska, the pace is nice and fast, just as I need it.  Living the dream,"he said.