Kelly: Cleaning Crew Deserves Commendation!
September 10, 2015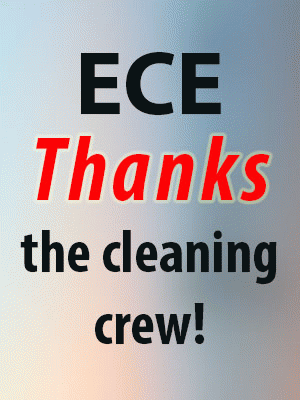 The cleaning crew from the physical plant has been working especially hard this semester and ECE Lab Manager Ralph Kelley wants to be sure they get proper recognition!
In addition to their usual chores, the cleaning crew, lead by Julia Lasky (who works under the supervision of Andrez Moya) recently cleaned, stripped and waxed the machine shop in the basement, as well as the Plasma and Fusion Science Laboratory.
"The cleaning crew did a wonderful job," beamed Ralph Kelly, Lab Manager. "Both floors look great. We did not think the machine shop would turn out as well as it did.
"I have been a graduate student here since 2006 and I do not think this has been done once during that time."
It took 6.5 hours to strip the floors of years five years of dirt and accumulated wax.
"I know that the cleaning crew does not always get recognition, but they do deserve to be commended for a job well done, and for their continual work keeping the department clean," said Kelly.
"I thought the floor was irreparable," said Research Professor C. Jerald Buchenauer. "When the physical plant was done it was so clean and shiny I had to put on my sunglasses."
"Ralph transformed the ECE machine shop into a fully-functional, organized and safe laboratory," said Research Assistant Professor Sarita Devi Prasad.
In addition to stripping and waxing the machine shop in the basement, members of the ECE staff and faculty volunteered to help clean up the mountains of garbage that had accumulated in the fenced area north of the building. This area had been blocked for the last couple years due to construction.
Systems Analyst II Frank Mercer, Editorial Technician Chuck Reuben, Department Administrator Reiner Martens, Building Manager David Modisette, as well as Buchenauer, rolled up their sleeves and spent two hours throwing 2.5 tons of trash into a 40-cubic-yard dumpster.
"It was a bonding experience," said Modisette. "We put on our work clothes, steel-toed boots and leather gloves and we just dealt with the situation. I was very pleased and thankful that we all came together as a team and got the work done in a very short time."
Modisette was not the only person who was pleased and thankful that things had been cleaned up before the holiday break: So was Department Administrator, Reiner Martens.
"I was very happy that faculty and staff worked very productively and in good team spirit together to get this job done," said Martens. "It shows that ECE staff truly cares about ECE and will go beyond their normal job duty.
"For humans it is said clothes make the man," continued Martens in his thick German accent. "And for structures, it can be said that cleanliness makes buildings."