UNM: "You Are Welcome Here!"
February 20, 2017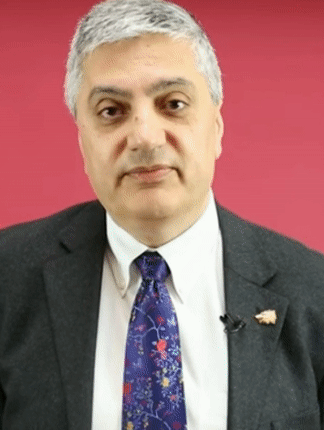 The University of New Mexico has an important message for its students, staff and faculty representing numerous cultures, identities, and nationalities—you are welcome here!
As part of a nationwide campaign, the University is voicing its appreciation for students and scholars from outside the U.S. and the diverse population represented on UNM's campus.
"The #YouAreWelcomeHere campaign is just one of the many ways UNM's Global Education Office (GEO) is strengthening efforts to support our global community on campus," said Nicole Tami, executive director for Global Education Initiatives. "It's also an opportunity to send a clear message to potential international students and scholars about the positive experience they can expect to have on our campus."
The making of the #YouAreWelcomeHere video brought out students, faculty, and staff from across the entire campus. More than 120 people stood in line to voice their support—many in their native languages.
Acting UNM President Chaouki Abdallah participated and showed his support through his own personal story, as he was an international student in the U.S. before advancing in his higher education career at UNM.
"I was an international student who came to this country to study and I feel very welcome here. You are also welcome here," said Abdallah.
The campaign started at Temple University and has grown with many universities' making sure students across the globe know they are desired and appreciated at U.S. schools. At UNM, more than 1,800 international students and scholars from around 100 countries are proud to call themselves Lobos.
"Launching this campaign was a great way for our campus to come together and show support for each other," said Pablo Torres, director for GEO international recruitment and admissions. "The message is for our international students and also our broader UNM community to celebrate all of the diverse perspectives we are fortunate to have at UNM."

As an advocate for international programs on campus, GEO helps to prepare UNM faculty, administrators and students to understand and work effectively in a complex and rapidly changing world.
"International students are some of the best students I have had when serving in Biology Advisement," said Shannon McCoy Hayes, program manager for CETI and CSforAll. "It's important to support these students on campus in any way we can because we really want them to succeed in their academics here."
McCoy Hayes said it is also important to recognize how international students and scholars impact the community outside of the classroom. "I am so inspired by so many of our international students. The courage to be away from home and to study in a different country – often in another language – it's really admirable. I've learned so much about other parts of the world from our students."
Cinematic Arts major Noor-un-Nisa Touchon said participating in the video project made her feel thankful she had the opportunity to show people she appreciates her Lobo classmates from other countries.


"Our community is so diverse here at UNM," says Touchon. "It's what makes us special. Interacting with people from other cultures makes coming to school here fulfilling. Working and learning together, we have a greater understanding of our global community and what we have to offer each other."
GEO has already received multiple inquiries regarding additional ways to participate in the #YouAreWelcomeHere campaign. GEO intends to expand upon #YouAreWelcomeHere with personal stories and reflections from the UNM community to be shared across web and social media. Individuals may express interest in participating by emailing Danielle Gilliam, GEO administrative officer at dgilliam@unm.edu.
Additionally, GEO actively seeks support for its UNM Foundation Emergency Fund to help international students and scholars in critical need of assistance. GEO advises donors to put the words #YouAreWelcomeHere in comments section of the online form.