Grad Student Assn Rocks ECE
March 30, 2017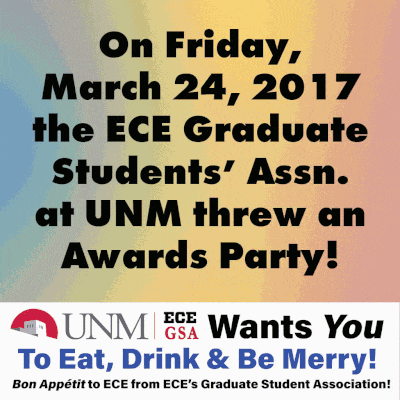 The ECE Graduate Student Assn (GSA) hosted a very successful lunch and awards ceremony last Friday (March 24) in the atrium of our building.
GSA fed well over 100 ECE students, faculty and staff while they networked, socialized and listened to new age cello music that was provided by Dr Mark Gilmore.
ECE Chair Michael Devetsikiotis took to the microphone after everybody was done eating and announced the winners for this year's departmental awards, as follows:
Teaching: Dr. Edward Nava - $1,000
Research: Dr. Yin Yang - $1,000
Lawton-Ellis: Dr. Zarkesh-Ha - $1,000

Graduate Student: Brian MacKie-Mason - $500
Senior Student: Desmond Awungayi - $250
Junior Student: Mark Louie - $250
ECE congratulates all the winners on their success and would like to commend GSA for throwing a great party!
Please click this sentence to view  (and share) high-resolution photos of this event.