ECE Takes Home 7 SOE Awards!
May 20, 2017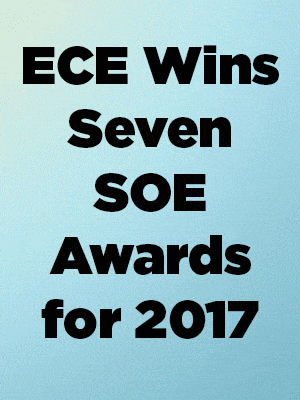 The School of Engineering announced its 2017 Award Winners and ECE took home seven of them on Thursday, May 4 in the auditorium of the Centennial Engineering Ctr (room 1041).
The student winners were as follows: Kevin Barnette (Outstanding Sophomore); Benjamin Reichelt (Outstanding Junior); Christopher Zapotocky (Outstanding Senior); and Wenjing Liu (Outstanding Graduate Student).
Dr Edl Schamiloglu also garnered the Senior Faculty Research Award; Dr. Gunny Balakrishnan won the Senior Faculty Teaching Award; and Reiner Martens was one of three SOE Staff members who won the Outstanding Staff Award.
"We are so happy for them and thankful for their service in ECE!" said ECE Chair Michael Devetsikiotis who encourages ECE students, faculty and staff to attend the awards ceremony and show our support for the winners.