COSMIAC In the Hot Seat
October 5, 2017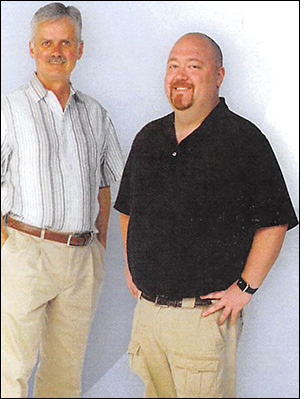 Brian Zufelt and Craig Kief were recently recognized by the New Mexico Small Business Association (NMSBA) for their help in streamlining an electronic device that saves the lives of children.
Zufelt and Kief serve as senior staff at the Configurable Space Microsystems Innovations and Applications Center (COSMIAC), an ECE research center. While most of the work done at COSMIAC relates to aerospace initiatives, Zufelt and Kief's contributions hit much closer to home: It jogs the memories of forgetful parents.
NMSBA connected Alissa Chavez, an Albuquerque High School Senior, with Zufelt and Kief after they learned about her patented invention, a device called the "Hot Seat."
The three of them worked together in order to reduce the size of the Hot Seat's circuit board and increase its battery life. They also wrote driver functions for its basic electronic components, tested it, and created a new schematic designed to facilitate mass production. 

The Hot Seat consists of a sensor pad (that can be placed in any seat) and an app available for the iPhone.  
According to the Chavez's website, " If the sensor pad senses that a child is in the car seat and the cell phone is at least 20ft away from the vehicle an alarm on your iPhone will sound, notifying you that a child has been left in the vehicle."
Every year over 40 children die from being left in a hot car.
As a result of the technical assistance that Alissa received, she is realizing her dream of manufacturing the Hot Seat and has received 500 pre-orders.
"It is my dream to become a successful inventor and make a difference in people's lives," said Chavez.