Southwestern ECE Heads Gather at UNM
October 15, 2017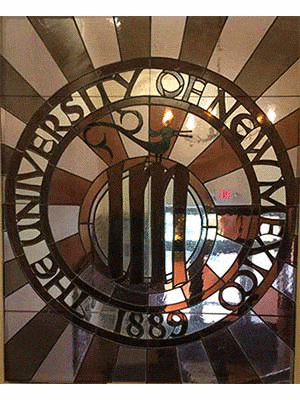 The Southwest Regional chapter of the Electrical & Computer Engineering Department Heads Association (SWECEDHA) held its annual meeting Oct 5-6 at UNM.
The SWECEDHA is composed of heads or chairs of ECE departments from Arizona, New Mexico and Texas who offer accredited programs in electrical and/or computer engineering. Thirteen departments were represented at the meeting as well as seven companies and national labs.
The event began with a casual dinner at the ten-story Andaluz Hotel on the evening of Thursday, Oct 5. Opened in 1939, it was Conrad Hilton's fourth hotel and the first modern high-rise hotel in New Mexico.
The two-day gathering culminated in a meeting that took place the next day in the historic Bobo room of Hodgin Hall (1894), the oldest building on the UNM campus.
Graced by WPA hand-tooled tin chandeliers overhanging a polished walnut floor and surrounded by southwestern pottery and rugs, the group worked from 8 am to 3 pm and promoted actions along three primary themes:
1) A lunch meeting with addresses by UNM interim-President Chaouki Abdallah
2) A presentation by Quanser's Tom Lee
3) An hour-long forum which included AFRL, Sandia National Labs, Los Alamos National Labs, Northrup Grumman, Sacred Wind Communications, National Instruments and Quanser. The forum was also attended by a representative from the office of the CIO of the City of Albuquerque, and the district director from Congresswoman Michelle Lujan Grisham's office.
The three working-group primary themes included course sharing across institutions, addressing highly specialized graduate courses and also senior design; building a research consortium, by engaging regional capabilities toward addressing regional and national needs; and shared and collective efforts to strengthen outreach into K-12 as well as to enhance branding.
Afterward, the group enjoyed a trip up to Sandia Crest on the world's longest tram.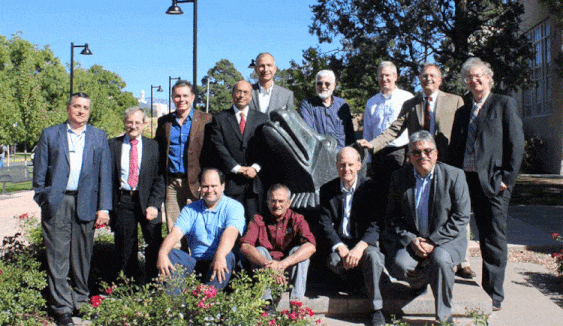 List of Attendees
Academia:
Arizona State University
Steve Phillips/Director
Lamar University
Harley Mylar/Chair
New Mexico State University
Satish Ranade/Head
New Mexico Tech University
Aly El-Osery/Chair
Texas Tech University
Mike Giesselmann/Chair
Texas Tech University
Brian Nutter/Associate Chair
University of Arizona
Hal Tharp/Associate Department Head
University of Houston
Badri Roysam/Chair
University of New Mexico
Michael Devesikiotis/Chair
University of New Mexico
Reiner Martens/Department Admin
University of New Mexico
Chaouki Abdallah/Interim President
University of North Texas
Barrett Bryant/Chair
University of Texas at Arlington
Jonathan Bredow/Chair
University of Texas at Austin
Ahmed Tewfik/Chair
University of Texas at Dallas
Mehrdad Nourani/Associate Department Head
University of Texas at El Paso
Miguel Velez-Reyes/Chair
Industry:
Andrew M. Kwas   
Northrop Grumman
Andrew Williams
AFRL
Tom Lee
Quanser
Amirpasha Javid 
Quanser
Neo Nicolaou     
Sacred Wind Communications
Igor Alvarado
National Instruments
Bruce Carlsten
Los Alamos National Labs
John McVay 
Sandia National Labs
Todd Bauer 
Sandia National Labs
Peter Ambs 
CIO, City of Albuquerque
Mariana Padilla



District Director
Office of Congresswoman Michelle Lujan

Derrick Clyburn Ballard
Emtech Global
Steven Lucero
Perpétua Partners
Christos Christodoulou
Dean, School of Engineering, UNM
Chaouki Abdallah
Chaouki Abdallah