SWE Thanks Hahn for Her Support
November 15, 2017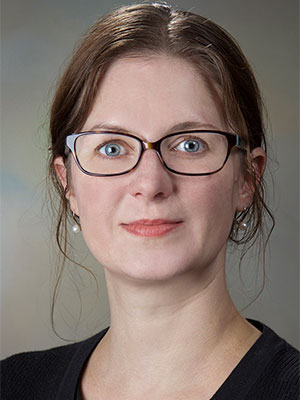 Kelly Hahn, a physicist at Sandia National Labs and former ECE student, has been recognized by the Society of Women Engineers for her support in the enrichment and advancement of women in engineering.
Hahn received the Emerging Leader Award for being "actively engaged in an engineering or technology profession" and demonstrating outstanding technical excellence.
Hahn was a student in Dr Edl Schamiloglu's undergraduate electromagnetics class in the late 1990s and earned her Bachelor's Degree in Electrical Engineering in 1999. Schamiloglu was so impressed with her performance that he encouraged Kelly to work in his laboratory as an undergraduate research assistant.
Hahn worked in this capacity where she supported graduate students as well as Post Doc Frank Hegeler (who is now at the Naval Research Laboratory) with their experiments. It was this laboratory experience with Hegeler that motivated Kelly to pursue a Master's Degree at ECE.
Hahn studied different cathode topologies and how they affect the performance of a high power backward-wave oscillator for her Master's thesis: a kind of a high power microwave source. She completed her MS thesis in 2002, and it was entitled "Studies of a Long Pulse BWO Using a Disk Cathode."
Upon completing her MS Kelly decided she wanted to pursue the PhD degree. Coincidentally, one of Schamiloglu's colleagues at Sandia was seeking to find a student to perform research on a project involving the use of intense electron beams to generate X-rays for radiography.
Schamiloglu thought Kelly would be a perfect student for that project and Kelly commenced work as a student intern at Sandia, completing her PhD in 2006. The title of her dissertation is "Electron Beam Focusing in Gas and Plasma-Filled Transport Cells." Kelly was hired on as a staff member upon completing her PhD.
"Kelly Hahn's career path is an exemplary model on how to encourage undergraduates in STEM fields to pursue graduate degrees," said Schamiloglu. "Identify bright students early on…Get them into the laboratory as early as possible and expose them to the research environment…Then hope that this spark ignites an interest in pursuing a career in research!"
These days Hahn spends her time at SNL working on the Z Machine, conducting inertial confinement fusion experiments.
Hahn has co-authored more than 70 peer-reviewed and conference articles, of which she is the first author on 15. She is a member of the American Physical Society and attends its Division of Plasma Physics conference and several other conferences each year to present her and her team's scientific achievements and recruit students for Sandia's fusion program, speaking with female graduate and undergraduates in particular.
Hahn is a member of the electrical and computer engineering advisory board at the University of New Mexico. Through her professors and other associates in the engineering department, Hahn learned the importance of encouraging female students of all ages, especially those in elementary and middle school, to consider engineering fields.
"I think some students, particularly females, seem intimidated by engineering fields because they are afraid to make mistakes," said Hahn. "Everyone makes mistakes — myself included. Mistakes are an integral part of the research and development environment. By working with a team, mistakes can be remedied more quickly and that benefits the entire team."
Hahn also has mentored students from the Massachusetts Institute of Technology, Missouri University of Science and Technology, University of New Mexico and Pomona College in California. She encourages students to be actively involved in technical areas outside their disciplines so they can be exposed to different aspects of research and development.
"I am truly flattered by this award, and I feel tremendously honored that several of my respected colleagues took time to prepare sincere letters of recommendation for the award. It further boosts my interest in wanting to pay-it-forward to inspire other females to join STEM fields," she said.
                            (Many thanks to Sandia National Laboratories for their gracious help in writing this story)