Gomez, Kreitinger Win "I Am STEM Award"
December 15, 2017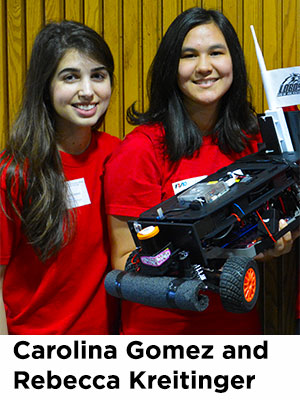 ECE undergraduate students Carolina Gomez and Rebecca Kreitinger have won the 2017 "I Am STEM Award" sponsored by the STEM Collaborative Center.
The award recognizes and honors UNM undergraduate students for their commitment to STEM success for themselves as well as their communities through exceptional UNM campus and community engagement. Carolina and Rebecca work as Outreach Coordinators at the MARHES Lab.
"Carolina and Rebecca were providing tours for undergraduate students and talking to them about the work they do for Dr Fierro's Robotics Lab," said Glenda Kodaseet, Program Specialist at the STEM Collaborative Center."The way they talked to students was very refreshing and inspiring: They encouraged them to get more engaged with faculty and not be afraid to approach them."

One of the many perks of receiving the "I am STEM Award" is a photoshoot by a professional photographer. The resulting "headshots" can be used by Carolina and Rebecca in the future when they are certain to win more awards and will inevitably be asked for photos of themselves by reporters and scientific journal editors.
The resulting images will also be celebrated in a sort of Hall of Fame that STEM features here.
Gomez and Kreitinger will be recognized for their achievement at a formal luncheon to be held in the SUB in the spring of 2018.