UNM Rolls out Canvas for Summer '22
May 15, 2022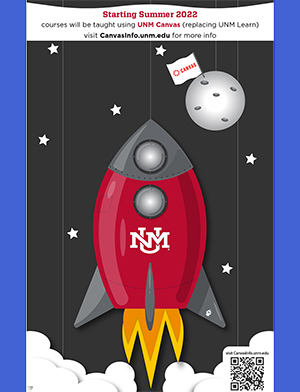 UNM just announced the adoption of a new Learning Management System (LMS) for classes starting in Summer 2022, replacing UNM Learn.
By choosing Canvas, UNM is making a significant enhancement to the educational technology experience at the university. Recognized for its ease of use, flexibility, and mobile capabilities, Canvas is the leading choice for Learning Management Systems among our peer institutions. 
Learn how to use Canvas in the Student Resource Guide and by reviewing the Canvas Overview for Students video. Please keep in mind that each course is designed individually by each instructor, so the specific tools used in your courses can vary somewhat.  
Get technical support for Canvas by contacting the UNM Canvas Support Desk or by using the Help menu inside of Canvas, located in the left Global Navigation Menu. 
And check out the following user-friendly YouTube video as one of your first introductions to Canvas!